A topic that has been discussed and researched for a long time has been brought back into focus by the current Corona crisis. As many companies have been forced to send their employees to the home office, employers and employees are once again thinking hard about the question of what the future of the office will look like. Will we all work from home in the future and will the corporate office soon become superfluous?
We also regularly deal with developments in this area. The future of the office is also strongly related to how we work in the future. We have thought about this and show various future scenarios for work and offices.
How will we work in the future?
Supported by digitalisation, most office work can now be done from anywhere. Whether at home, in a café or on the train - all that is needed is usually a laptop and a stable internet connection. Contrary to still existing doubts, the current phase has shown that employees are very productive even when they work remotely.
Strengthened by this realisation, the trend towards working independently of time and place will continue to grow in the coming years. The free arrangement of working hours, the reduction of travel distances, the care of family members - all these are important reasons for many people to be even more flexible in their choice of working place and time in the future. A legal regulation for working from home is currently being discussed intensively at the political level and therefore seems to be only a question of time.
Home office, co-working, Hoffice - alternatives to the company office
However, the home office will not be the only alternative to working in the office. Because not every employee's home is the perfect place to work. Ergonomic desks and chairs are usually lacking and many employees complain about health problems. The fact that there is no clear demarcation between work and private life and that e-mails are often answered outside working hours does not make the home office attractive for everyone. 
Instead, the home office will be just one of many alternatives. Co-working spaces are already flexible places for creatives and small entrepreneurs to work. Co-working networks are already emerging through partnerships with local cafes and restaurants. In the long term, employees of medium-sized companies and corporations will also increasingly use co-working spaces as workplaces due to their high flexibility.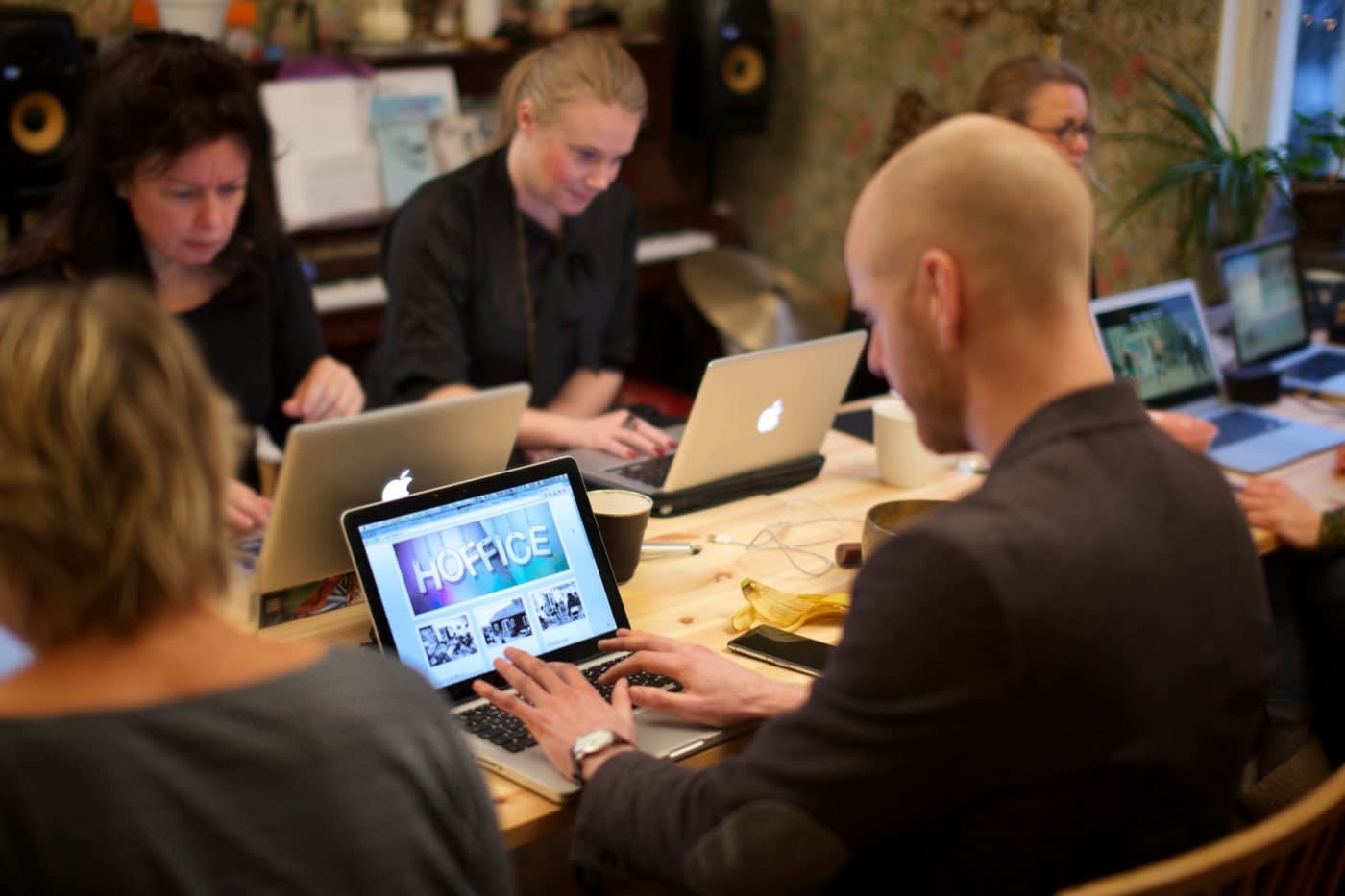 Neighbourhood offices, i.e. shared offices in the neighbourhood, will become established as a complement to and similar to co-working spaces. Private individuals, housing cooperatives and municipalities will act as providers. The so-called Hoffice, in which private individuals make their flats available as co-working spaces for others, already has many supporters in Scandinavia. For employees, these different possibilities result in a variety of workplaces that they can choose flexibly according to their location and time planning.
The corporate office must be rethought!
But what do these developments mean for the company office and its role in everyday working life? Will a company office still be needed at all in the future if all employees work flexibly on the road?
The answer is: Yes! However, its role will increasingly change. Face-to-face appointments, meetings or even customer appointments will still not be able to take place completely digitally in the medium term. In a hybrid working world in which employees regularly switch between the office and the home office, however, the office will primarily become a meeting place where employees meet to interact with colleagues and the sense of togetherness is strengthened.
Reformation of the office space
Due to the changed working models and requirements for the function of the office, office space must be planned anew. This will lead to reduced space requirements for some companies, with the consequence that the landscape for office real estate will also change. In addition, there will be a new optimal space mix of office space (mainly workstations/possibilities) and special space (mainly communication space and social space such as cafeteria or kitchen). The office spaces will focus on
Communication
Concentration
Creativity
Collaboration
and consequently need to be rethought. Classic office planning with the aim of optimising space alone will no longer suffice. Rather, psychological aspects and movement data must flow into the planning. Which teams work together how and how often. Which office areas are used (intensively) and how?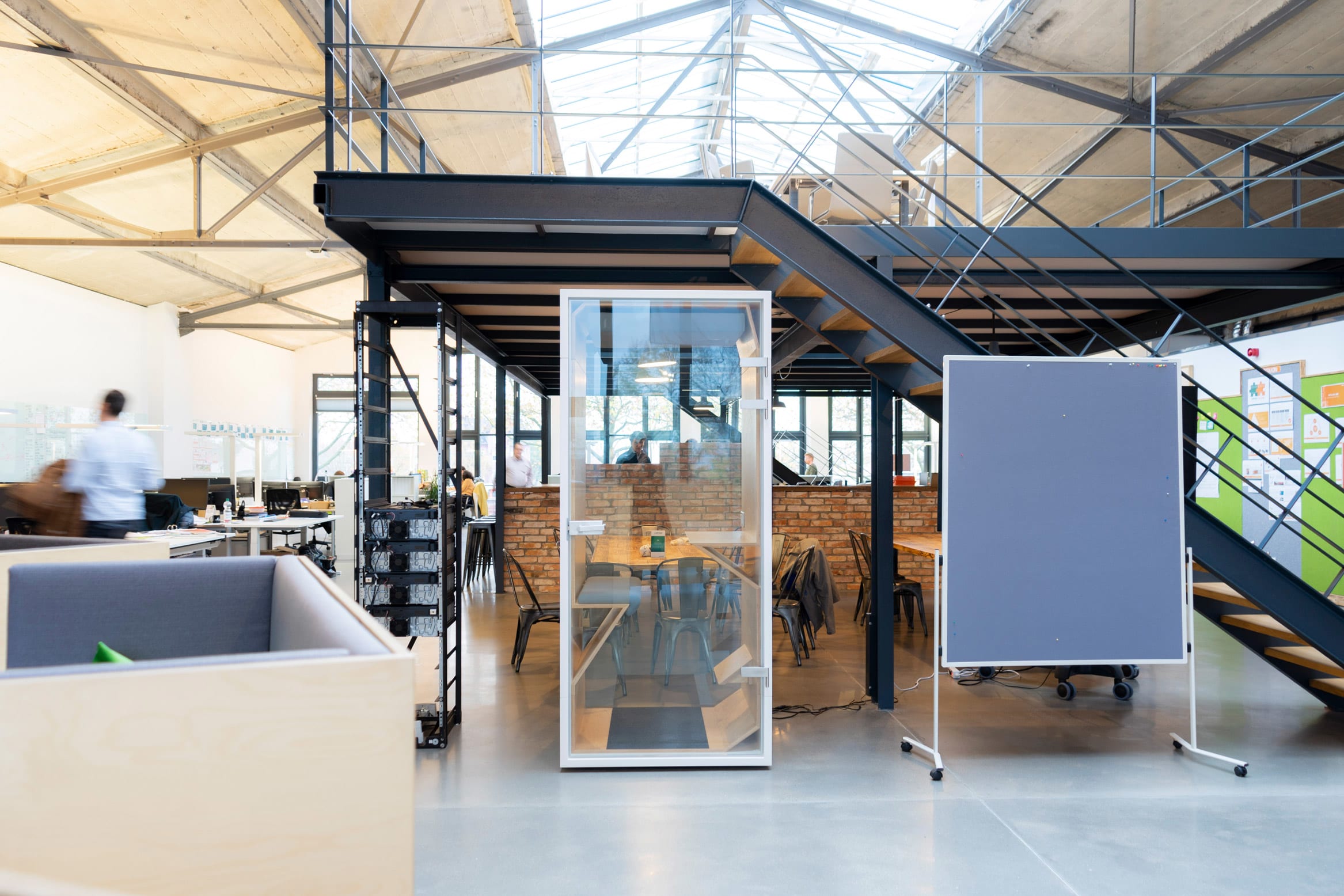 The result will be smart offices. Intelligent office landscapes combine open and closed areas in a sensible way. Acoustically protected workplaces enable concentration and focused work. Room-within-a-room solutions such as telephone & meeting boxes or silent boxes offer retreat options for teams and individuals.
Workspaces equipped with matching office furniture promote communication, creativity and collaboration by creating the right environment for the task at hand and providing the appropriate technology.
Workplace gives way to flex office
At the same time, the era of rigid and fixed workplaces will come to an end. Already today, many tasks are less and less performed at the personal workplace. Instead, work is increasingly taking place in meetings, with business partners, on the road or in the home office. The fixed workplace is becoming a flexible workplace. Desk sharing is one of these terms of the New Work concept. People who come to the office do not go to the workstation assigned to them, but choose the one best suited to the task or mood.
Such approaches are already found in large companies, and not just today. With success: because the principle of free seating promotes exchange between employees, even across departments. Depending on who is working on the current project, people sit together according to the situation.
What does the future hold for the office?
The current Corona crisis has shown that it is necessary and possible to rethink classic ways of working and to look at new models. Despite more and more work away from the office, the office will continue to play an important role in working life. However, its importance and function will change significantly. For companies, the current crisis represents an opportunity to emerge from it optimised and prepare the office for the future. 
However, it is difficult to make concrete predictions about developments in the coming years. Especially since there is no one solution that is valid for all companies. The requirements are too different depending on the industry or the size of the company.
For companies, therefore, a discovery phase of several years begins today, in which approaches are repeatedly discarded, new ideas are tested and adjustments to space planning and office equipment are continuously made. The challenge is therefore also to be able to react flexibly to such changes at any time.
One approach with which companies can position themselves in an agile (more) way is the asset light strategy Renting strategically insignificant assets, such as office equipment, is one component of this strategy. As a professional outfitter, we support companies in planning and implementing new space concepts and furnish the offices with suitable solutions. We have already accompanied numerous clients on the way to their office of the future. 
If you too want to be prepared for the upcoming changes today, contact us. Together we will prepare your office for the future.